COMMERCIAL ROOF INSTALLATION IN KANSAS CITY, MO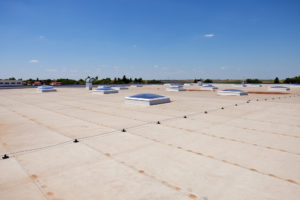 Every building needs a solid roof. At Restoration Roofing, we offer quality commercial roof installation services to property managers and building owners across Kansas City, MO.
THE RIGHT TEAM FOR THE JOB
When it's time to have your building's roof replaced, trust the experts at Restoration Roofing to install your new commercial roof in a timely and efficient fashion. We understand that the roof installation process can be disruptive, so we'll do our best to come up with a construction schedule that impacts your business the least. At Restoration Roofing, we pride ourselves on our:
Quality workmanship
Wide selection of roofing materials
Organized, courteous contractors
Competitive pricing
Strict adherence to building codes and regulations in Kansas City, MO
At Restoration Roofing, your complete satisfaction is our priority, and we pledge to complete your commercial roof installation project on time and within budget. Call us today for more information about our services or to schedule an estimate.
For Commercial Roof Installation in the Kansas City Northland
Call Today 816-812-ROOF (7663)
Serving the Northland
Kansas City Northland
Excelsior Springs
Gladstone
Liberty
Riverside
Smithville
Platte City
Kearney
Give us a call!